Community Manager for NFT Course
A community manager can be seen as the bridge between the project and its audience. While developers are often busy coding or working on new ideas, the community manager focuses on creating a healthy environment around the project. This can be done simply by answering questions, moderating messages, and being present in your community's Discord.
Now, it is the perfect time to learn everything you need to know about community management in Web3 space!
Community Manager for NFT Course: June 13th – June 17th, 2022 from 17:00 PM – 19:00 Western Indonesia Time
This course takes place over 1 week as follows:
Time: 17:00 – 19:00 Western Indonesia Time
DAY 1 
INTRODUCTION 
What is NFT and how does it work?
What is Web 3, Crypto, Metaverse, and other new things about NFT? 
What are the advantages and disadvantages of NFT? 
PRACTICAL DAY 1
Making a crypto wallet – TKO
Syncing with NFT platforms for NFTs
How to avoid scams, and how to respond to copy minters
DAY 2 – 3
DISCORD INTRO 
What is Discord and how does it work?
How to join an NFT Community – Look at templates
What are Discord Bots?
What are the advantages of Discord? 
PRACTICAL DAY 2-3
How do I join a Discord
How to Setup a Discord ( with Bots)
Templates Setup
Setting up Roles and Channels
Setup Verification
How to avoid scams and spammers
DAY 4
NFT and WEB 3.0 in Discord
How does Web3 work with Discord? (Collab.land and other bots)

Discord vs Telegram Web Portal for Web 3

Discord vs Web Portals for Web 3 (WP-Plugin)

Hacked wallets and verification

PRACTICAL DAY 4 

Setting up Collab.land with Discord

Setting up Collab.land with Telegram
DAY 5
Niche NFT Communities
NFT Gaming vs NFT PFP

Defi Protocols for NFT

Artistic Communities

PRACTICAL DAY 5

Last Q&A Session

Internship Discussion
You are:
An Indonesian citizen with an intermediate level of English, laptop/PC (or unlimited access to it), phone, basic PC skills and high motivation.
Course format
Training sessions & workshops:
5-day course: June 13th – June 17th, 2022 from 17:00 PM – 19:00 PM Western Indonesia Time
Selected students will get 1-month PAID INTERNSHIP for Robomot NFT community, Metarupa Community, and more.
Price: IDR 500,000
This course is developed by a team of passionate experts with an extensive track record in their fields. 
We believe in the power of sharing knowledge and experience generously, and our mentors and trainers will elevate your learning experience from great to amazing, pushing you to achieve excellence.
Tommy Chandra
Co-founder of Robomot NFT, Indonesian illustrator & graphic designer whose works have been exhibited in Indonesia and abroad.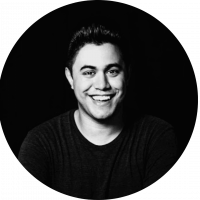 Ruanth Chrisley
Co-founder of Robomot NFT, Founder of Metarupa.com with a background in crypto since 2015 and NFT since 2017.
Fill in the registration form below and get the opportunity to become a top-notch virtual assistant!