Smart Contract Development
with Solidity & Clarity
The radically growing adoption of blockchain has been one of the reasons for driving the popularity of smart contracts. 
Smart contracts created on the blockchain platform allows the developers to create new and better apps that could integrate and coordinate with the user to develop better interaction.
Here's the good news: Blockchain engineers are in extreme demand. Almost every day they are building billion dollar applications.
Join us to learn how to develop smart contracts using Solidity and Clarity so you can start making money from home!
Date: TBA
This course takes place over 5 days as follows:
Dates: TBA
Time: TBA
Day 1: Learn Enough Blockchain
Day 2: Learn Enough Solidity
Day 3: Learn Enough DApp Smart Contract Integration
Day 4: Learn Enough Stacks Clarity
Day 5: Learn Enough DApp Clarity and Wrapping It Up
Outputs:
Ability to create effective DApp
Understanding of what kind of tooling to be considered when building DApp
Understanding and hands on experience on building DApp architecture
You are:
A developer with at least 1-2 years of experience as any kind of developer
Training sessions & workshops:
5-day course: TBA
Price: IDR 500,000
This course is developed by a passionate expert with an extensive track record in his field.
We believe in the power of sharing knowledge and experience generously, and our mentors and trainers will elevate your learning experience from great to amazing, pushing you to achieve excellence.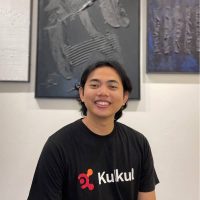 Abdurrachman Mappuji
Tech Lead at Hoji & Chapter Lead at Stacks
Fill in the registration form below and get the opportunity to become a top-notch virtual assistant!