In 2022, Remote Skills Academy (RSA) has focused on building a strong sense of community through intentional events and programs. This has resulted in 16 digital education programs that have fostered engagement and connection within our community of Remote Workers. Our intention to design each event to leave a lasting impression and foster meaningful connections has resulted in: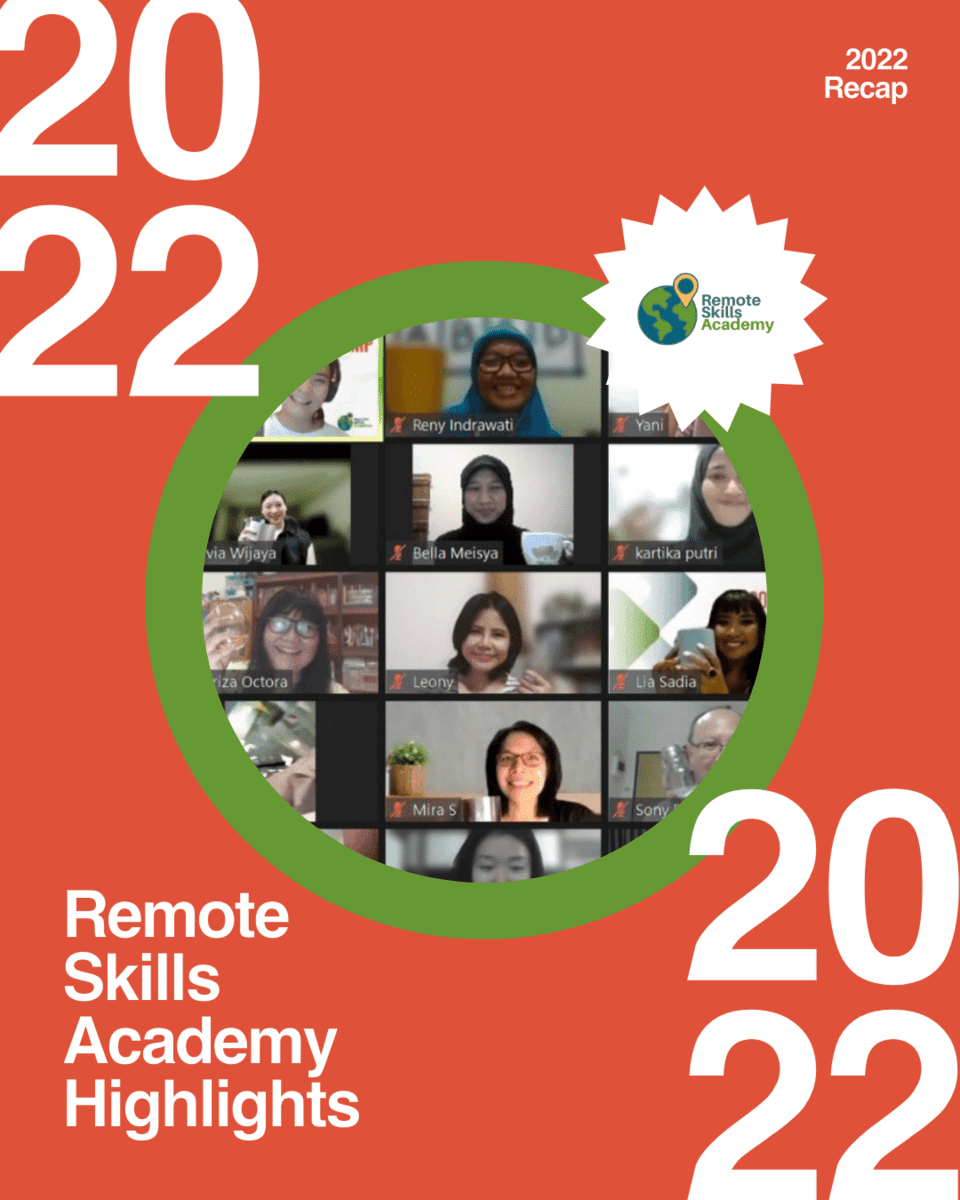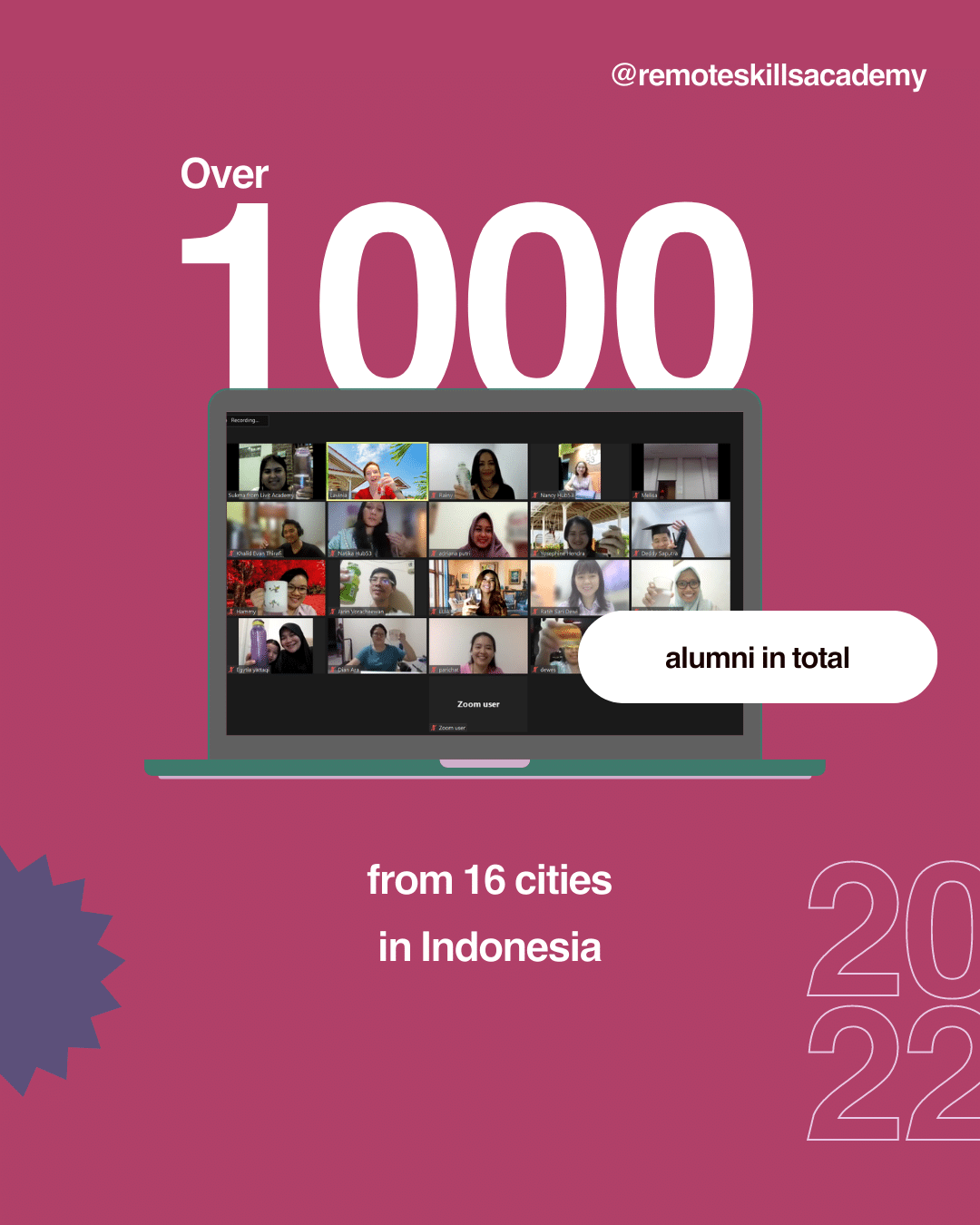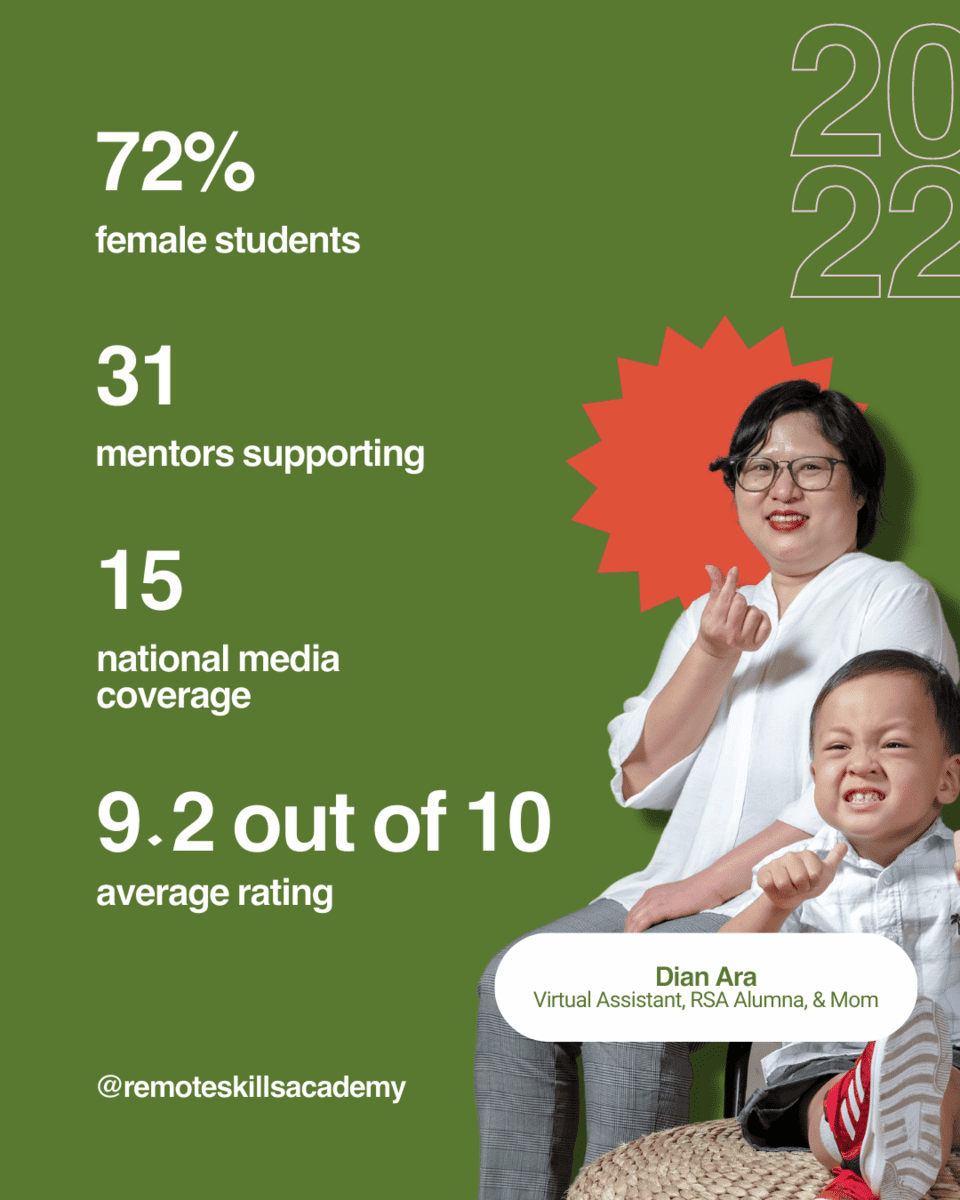 Here are the 16 programs we run in 2022:
Remote Skills Summit Indonesia (RSSI) 2022
We organized RSSI, a 2-day online conference to inspire Indonesian youth to get in touch with the recent updates of remote learning and remote work, get encouraged to reskill and upskill in technology, and successfully navigate changes in their lives.
We invited 40 speakers from around the world with 17 speakers from Indonesia, some of them are our alumni sharing their knowledge with others.
We experiment with several different formats in the sessions, from keynote, panel+keynote, panel, active session with meditation and laughter yoga, fireside chat, remote networking event, workshop, and masterclass. It seems worked to make the attendees curious enough to stay from 10 am WIB to 8 pm WIB with only 35% churn. Our comment section on every session also has been active. A lot of questions and discussions happen there. This is exactly what we want, to create discussion and conversation on the future of work, which is already here.
Girls in Tech Scholarship 2022 #RemoteWomen
In collaboration with Girls in Tech Indonesia (GIT-ID), supported by Education New Zealand (ENZ), we gave scholarships for 15 girls to participate in a 5-week program to learn Product Management and Data Analytics. This program includes mentoring, pitching and internship opportunities for the Awardees.
Virtual Assistant (VA) Resources
Our most popular courses are on VA-related courses, so it's important for us to address the need of the new VAs in our community. We're providing free resources for VAs at VA Resources landing page including:
VA Learning & Career Path (ebook/pdf)
CV Template
Portfolio & Rate card template (pdf)
Freelance contract template
Invoice Template
Information of our community (Discord/Whatsapp Group/Telegram)
Robomot NFT
We worked together with world-renowned Indonesian artist Tommy Chandra and top community manager Ruanth Chrisley to build Robomot NFT, the first NFT with Remote Workers utility. We aim to empower Indonesian Youth to be successful remote workers with global clients. In June, we collaborated with 46 Indonesian artists and did an NFT exhibition at Superlative. Head here to mint Robomot NFT!
Community Manager for NFT Course #FutureSkills
We created a 1-week course to address the need of a new in-demand skill: Community Management. We cover the topic of Web3 and mainly community management through Discord. Selected students get 2 months of paid internship for Deera, Metarupa Community and KompasNFT
Social Media Branding for Remote Workers
The highly practical short course (1 week) for remote workers who are wanting to go freelance with their skills but are needing to develop a personal brand to make themself not only look professional but also help them land clients.
Opportunities in DAO (Decentralized Autonomous Organization) MasterClass #FutureSkills
In our one-hour Masterclass, we explored how Decentralized Autonomous Organizations (DAOs) operate using blockchain technology, similar to the way remote workers function. We introduced the concept of DAOs and provided insight into how they can benefit remote teams.
Super VA Bootcamp
Our comprehensive 6-week bootcamp was designed to provide Virtual Assistants (VAs) with the skills and knowledge they need to succeed, whether they are just starting out or looking to improve their existing skills. With more than 12 trainers and 10 mentors, the bootcamp covered a range of topics, including the mindset of a successful VA, project management tools, digital marketing, career planning, mentorship, and many more. In the final week of the program, participants also had the opportunity to participate in hands-on training with real-life CEOs as part of their final assignment.
Career Coaching 101 MasterClass with TikTok Influencer Yova Beltz
With the constantly evolving landscape of digital skills and opportunities, our Career Coaching Masterclass was designed to help participants navigate their personal career development. Trained by Yova Beltz, an HR professional with over 10 years of experience and a TikTok influencer focused on career planning, the class provided valuable insights on how to build a successful career and offered the motivation needed to be your best self.
VA-Agency
Due to the increasing demand for Virtual Assistants from our partners and clients, we're offering our community the opportunity to showcase their skills to the real world. Our VA Agency features highly qualified professionals who can handle a variety of tasks, such as scheduling, email management, data entry, social media management, and more. We strive to provide only the best VA to meet the needs of our partners and clients.
Sales & Digital Marketing Offline Training for Evermos' Resellers in Bali
We did our first-ever offline workshop with Evermos to train their Resellers in Bali on Digital Marketing, Sales and Community Building. We have 25+ Small Business Resellers joining our workshop and it was fun understanding marketing strategy in daily life analogy, practicing content creation, learning tools like Whatsapp for Business and sales role-playing to help them understand the process of selling, the objections of customers and helping giving solutions to them properly to eventually close sales. Most of the participants are women/moms who are not familiar with sophisticated technology but eventually can have fun being productive with technology.
Financial Resiliency MasterClass
In this Masterclass, participants learned about the basic principles of personal finance, which helped them plan and prepare for the future, navigate through uncertainty, and make sound financial decisions. Under the guidance of an experienced Financial Trainer, Emiralda Noviarti, participants were able to determine their financial position, develop a financial plan, create a financial strategy, and identify their investment and financial goals.
Online Business Manager Course
Over the last 10 years, the demand for Online Business Manager (OBMs) has increased significantly. To meet this need and help Virtual Assistant (VAs) improve their skills, we offered a comprehensive 2-week course on becoming an effective OBM. During the intensive program, we covered a range of topics including managing online launches, implementing business systems, tracking and analyzing key metrics, using customer relationship management (CRM) systems, and learning essential tech skills and tools. By the end of the course, participants were well-equipped to excel in the role of an OBM.
VA Learning Program for Thailand Students
We worked together with Draper Startup House and Hub 53 to make a Virtual Assistant education program available for Thai students. We provide an opportunity for Thais to adapt to the new realities of work, build successful careers and connect with others on the same journey.
RSA Goes to The Philippines in Partnership with Bixie
We partnered with financial literacy and women-focused app Bixie in The Philippines to empower Philippines women to work as a Virtual Assistant and earn a living while working remotely.
Awareness through Videos on TikTok, Reels, Short
We have over 5 million reach and at least a million of them come from our viral video content. We're happy to adapt to where our students are and give valuable information for them to start working remotely and using remote tools to reach success.
Here are some words from our Alumna, Mentor and Sponsor of RSA
Alumna Story
Kartika Putri is a former student of RSA who had a chance for career transition. Prior to joining RSA, Kartika owned a small seamstress business that struggled during the pandemic. She decided to acquire new skills that would allow her to work remotely for global clients and began by doing content editing for social media. This led her to RSA's Super VA Bootcamp course, which she found to have a comprehensive curriculum that allowed her to learn from the ground up.
Kartika credits RSA's mentors with providing her with strategies that helped her succeed even as a beginner. She also appreciated the opportunity to network with fellow students on Telegram and participate in RSA's client matching program, which allowed her to gain valuable experience as a virtual assistant through internships.
Overall, Kartika is grateful for the support and resources provided by RSA that helped her transition to a rewarding career in remote work.
Mentor Story
Adinda Rosyadha is a former student of RSA who is now giving back to the program as a mentor. Adinda is a strong believer in the value of informal education and is excited to share her knowledge and expertise with current RSA students. As an Online Business Manager (OBM), Adinda brings a wealth of practical experience to her mentorship role and the students appreciate the opportunity to learn from someone who is actively working in the field on a daily basis.
Adinda believes that informal education is more practical and relevant for people compared to formal education and is passionate about sharing her insights with the next generation of remote workers. She is committed to helping RSA students succeed and is dedicated to supporting them as they pursue their career goals.
Sponsor Story
Lydia Lee is a passionate supporter of RSA. Lydia was inspired to get involved after spending time in Indonesia during the pandemic and realizing the need for more remote work opportunities for Indonesians.
According to Lydia, one of the most rewarding aspects of being a sponsor for RSA is witnessing the growth and progress of the program's participants. Lydia enjoys mentoring the group as a whole and also working one-on-one with some of the students to help them discover their strengths and share their gifts with the world.
For those considering supporting students in a similar way, Lydia advises sharing your knowledge and expertise with those who may not have access to the same opportunities. She believes that supporting students and volunteering your time to teach is a great way to give back and help the next generation of remote workers succeed.
Lydia has been a big supporter of RSA since its inception and takes pride in mentoring students. She understands the freedom and lifestyle that remote work can provide and wants to help more Indonesians create a sense of freedom for themselves and their families.
What's next for 2023?
Remote Skills Academy has had a rewarding first two years of our activities, and we are excited about the potential for continued growth and impact in the years ahead.
We are committed to providing accessible, high-quality education to individuals around the world, and we are grateful for the support and feedback we have received from our students and partners.
We will continue to grow the number of students that we can empower up to 3,000 students through working with key partners especially doing offline outreach and classes.
We aim to go to 10 cities in Indonesia, creating courses nurturing digital talents, combining digital hard skills such as Virtual Assistance, Social Media Management, Digital Marketing, Project Management, Product Management, and the latest AI-powered content creation for Remote Workers and soft skills such as remote work best practices, learning how to learn, leadership, emotional intelligence, effective remote collaboration, idea generation, creativity, and self-awareness.
Take Action
Together we can do so much more. You too can empower Indonesian youth to upskill and reskill and get a better living by acquiring digital skills
Visit our HQ at Livit Hub Bali in Sanur to learn more about how RSA delivers courses to the youth offline and online
Be a Mentor. We're always looking for awesome mentors to share their expertise with our students.
Be a Volunteer. Need a village to run a non-profit! Your time will be valuable to help us grow
Be a Donor. Give scholarships to students who are unemployed and ready to focus in reskilling and upskilling for a better future.
Be a Sponsor by sponsoring a program with us, design specific modules for Indonesian students, and tailor engagements throughout the program.
Partner with us. We would appreciate a collaborative effort to create better awareness for our cause.
Hire. Consider hiring one of RSA's alumni through RSA VA-Agency. Our team has carefully selected the best of our alumni to provide top-quality services in a variety of roles such as Virtual Assistant, Social Media Manager, Project Manager, Community Manager, etc. Not only will you benefit from their expertise, but you will also be supporting RSA's students through your sponsorship. By hiring one of our alumni, you can make a positive impact on the next generation of remote workers while also meeting your business needs.
Like and engage with us on social media Instagram & TikTok @remoteskillsacademy Twitter @remoteskillsac LinkedIn Remote Skills Academy to stay up to date with our latest news
Please get in touch through lia@liv.it cc academy@liv.it and we will be happy to discuss your support for RSA students.
Have an amazing 2023!