Sebagai seorang ibu, aku tidak ingin berhenti mewujudkan impian dan berkontribusi kepada komunitas. Aku Anisa seorang virtual assistant. Aku adalah seorang ibu yang memiliki satu anak dan aku sangat tertarik dengan bisnis kecil-kecilan. Meskipun aku memiliki tanggung jawab sebagai seorang ibu, aku tetap ingin aktif dan produktif dari rumah. Itulah mengapa aku mulai mencari pekerjaan yang dapat dilakukan dari rumah dan mencoba mengikuti kelas online untuk meningkatkan keterampilanku.
Awalnya, aku tertarik dengan peran virtual assistant setelah aku belajar tentangnya melalui sebuah platform pendidikan. Namun, penjelasan yang aku dapatkan masih belum memuaskan, sehingga aku mulai mencari informasi lebih lanjut tentang virtual assistant. Suatu hari, ketika aku sedang membuka LinkedIn, tiba-tiba muncul iklan mengenai kelas online dari Remote Skill Academy. Tanpa ragu, aku mendaftar untuk mengikuti Super Virtual Assistant Bootcamp yang diselenggarakan oleh Remote Skill Academy.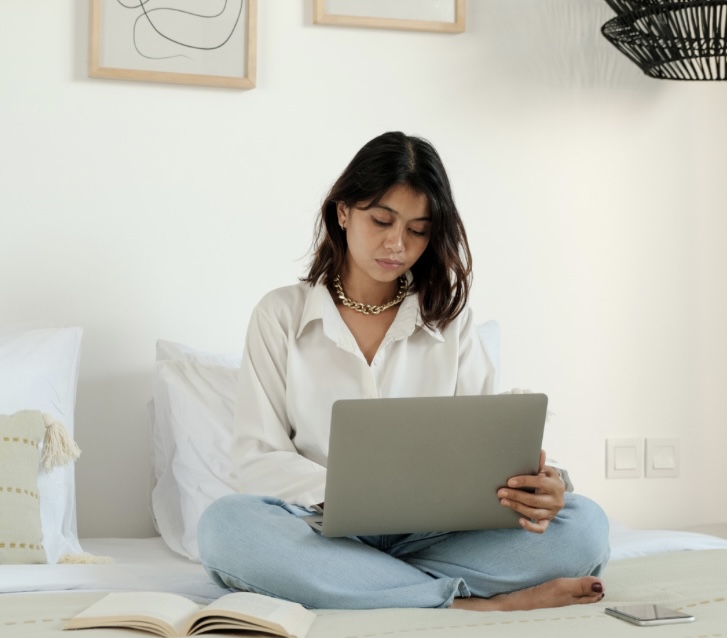 Belajar Skill Virtual Assistant di RSA
Di kursus online Remote Skill Academy, aku belajar banyak hal, tidak hanya tentang hard skills, tetapi juga tentang soft skills dan mindset yang diperlukan sebagai seorang virtual assistant. Modul yang disediakan oleh RSA sangat lengkap dan informatif. Aku, yang sebelumnya tidak pernah bekerja secara jarak jauh (remote), diajarkan tentang pengenalan dan mindset yang diperlukan dalam pekerjaan remote, serta mempelajari berbagai tools terbaru yang harus aku kuasai. Tidak hanya mendapatkan pengetahuan teoritis tentang tools tersebut, aku juga diajarkan untuk menggunakan dan mengoperasikan tools tersebut secara langsung. Hal ini sangat membantu ketika aku bertemu dengan klien, aku sudah memiliki keterampilan dalam menggunakan berbagai tools yang diperlukan. Mengikuti kelas online di RSA memberikan banyak keuntungan bagi aku.
Selain belajar topik-topik menarik yang selalu diperbarui, aku juga mendapatkan manfaat jangka panjang dari RSA, seperti dukungan dari komunitas, akses ke talent pool, dan kesempatan untuk menjadi volunteer yang sangat berguna dalam memperluas jaringan dan memasuki industri pekerjaan remote.
Aku Ingin Membagi Pengalamanku: I'll keep encourage and inspiring them.
Aku senang sekali berbagi pengalaman ku sebagai seorang virtual assistant dan seorang ibu kepada teman-teman ku. Banyak dari mereka, yang juga ibu, bercerita bahwa mereka ingin tetap aktif dan berdaya meskipun harus mengurus anak di rumah. Aku ingin membantu teman-teman dan ibu-ibu lainnya agar dapat tetap aktif dan berkontribusi dari rumah. Aku ingin banget mereka bisa tetap berdaya seperti yang aku alami.
Aku sempat berpikir untuk membuka kelas virtual assistant untuk teman-teman ibu dengan biaya yang dapat disesuaikan. Aku ingin berbagi pengetahuan yang aku peroleh agar lebih banyak orang mengenal pekerjaan online sebagai virtual assistant. Selain itu, aku juga bermimpi untuk mendirikan sebuah agensi dan komunitas virtual assistant khusus untuk ibu-ibu yang ingin bekerja dari rumah. Melalui komunitas ini, aku dapat terus berbagi pengalaman dan memberikan dukungan kepada mereka. Aku ingin mengingatkan meskipun kita sudah menjadi Ibu, kita bisa tetap berdaya dan mencapai impian kita, seperti quote yang aku suka ini "Keep going and manifest your dream".
Thank you for RSA sudah memberikan ilmu yang bermanfaat dan berbagai kesempatan untuk aku secara pribadi. Keep going and success!
Kalian ingin juga bisa bekerja dari rumah seperti Anisa? Ikuti kelas Virtual Assistance Recorded Online Course dari Remote Skills Academy yang dapat dibeli dan diakses di sini ya. Untuk kalian yang ingin belajar materi terkait pekerjaan remote lainnya, bisa cek di sini ya.
—
Cerita di atas adalah cerita dari Anisa Ilmy, alumni Remote Skills Academy by Livit.
Penulis: Teresa Immanuella ; Editor: Ayu Rifa