Nggak ada pekerjaan yang mudah di dunia ini, semua perlu kerja keras dan sedikit pengorbanan termasuk juga dengan bekerja sebagai remote worker.
People say "You say yes to one thing you say no for another". Menjadi remote worker diperlukan time management yang baik, dan untuk emak-emak seperti saya ini kadang masih kelimpungan walaupun kerjaan sebagai remote worker juga belum banyak.
Tapi pernah nggak sih temen-temen mengalami dalam satu hari itu seperti pekerjaan yang tiba-tiba numpuk dan nggak kelar-kelar? Atau lagi fokus-fokusnya nih bekerja, tiba-tiba anak minta ini minta itulah, ada yang ngetok pintu lah (seringnya sih paket ya hihi…). Bukan karena having a bad day ya, tapi literally seperti tiba-tiba tidak berjalan sesuai sebagaimana mestinya.
Pernah nih… satu hari jadwal anak saya lagi padat (pulang sekolah, les, lanjut latihan taekwondo), saya biasanya menunggu anak di café terdekat dari lokasi tempat les dan tempat latihan taekwondo (kebetulan tempat les dan taekwondo hanya berjarak kurang lebih 2 km). Hari itu saya drop anak ke tempat les sekitar jam 1 siang, tiba-tiba sayam mendapat invitation Zoom Meeting (emergency meeting, 30 minutes only katanya). Enggak bisa nolak kan, berusaha untuk profesional dong yaaa…. Langsung deh whatsapp guru les nya kalau kemungkinan saya jemput anak sedikit terlambat.
Okay… sudah 30 menit nih, belum kelar juga, agak alot diskusinya karena yang dibahas memang harus menghasilkan keputusan saat itu juga. Saya whatsapp lagi guru lesnya, "Aman Bu, anaknya lagi main sama 2 temannya. Tapi maaf bu saya nggak bisa mendampingi karena harus mengajar lagi". Oh okay… aman berarti karena biasanya anak-anak main dulu sampe jam 3 an sebelum pulang ke rumah masing-masing di sekitar ruko.
Akhirnya… meeting selesai di jam 2.43… cusss ngebut jemput anak. Sampe parkiran, loh ko tumben-tumbenan sepi?? Panik dong anak2 kemana.. Tukang parkir juga kok nggak ada, pikiran kan udah macem-macem nih, langsung lari masuk ke tempat les… dan akhirnya kedengeran anak saya lagi nangis di lantai 2.. Ternyata temen-temennya dijemput lebih awal dari biasanya, saat temen yang satu lagi pulang, langsung nangis kejer… takut mami nggak jemput katanya.
Ngerasa bersalah? Iya dong pasti… Sepertinya sepele ya? Tapi buat anak nggak loh… walaupun cuma telat beberapa menit ternyata anak saya kalau ditinggal lagi ada ketakutan terjadi seperti itu lagi.
Akhirnya dari situ saya belajar dan saya putuskan jika suatu saat terjadi lagi kejadian seperti ini, saya akan tinggalkan pekerjaan demi bisa on time menjemput anak saya. Karena anak saya adalah prioritas saya, mental anak saya harus saya jaga lebih dari apapun.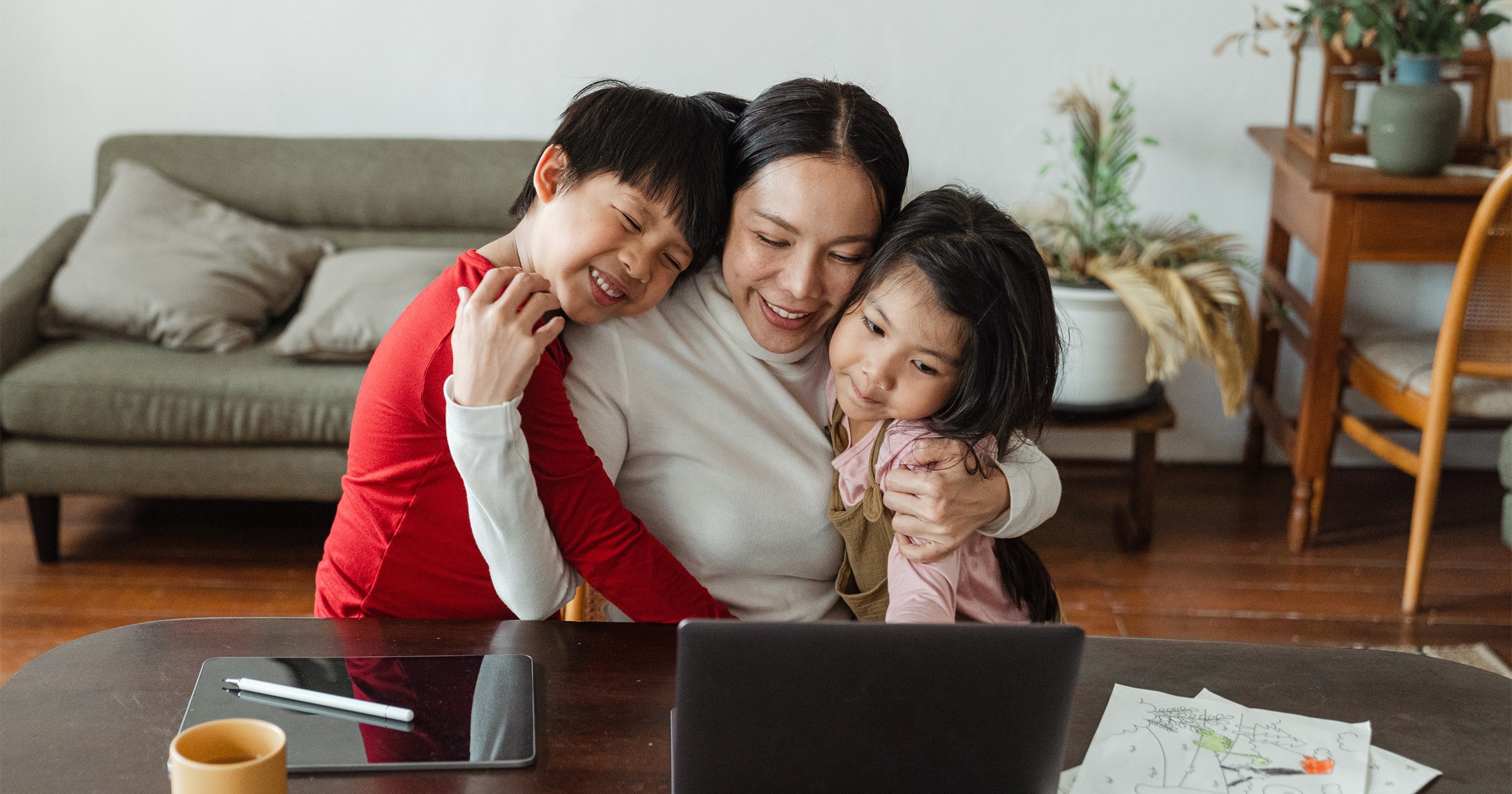 Back to tantangan yang dihadapi sebagai remote worker mom, semua tantangan-tantangan yang pernah saya alami malah jadi lucu kalau diingat-ingat kembali. Konyol aja gitu tapi seru….
Saya juga yakin nih pasti temen-temen pernah juga ngalamin hal-hal yang lucu, atau malah ngeselin sebagai remote worker? Yuk sharing pengalaman unik apa yang pernah kalian alami selama menjadi remote worker melalui Instagram @remoteskillsacademy!