Working remotely is not taught in the syllabus of the Indonesian education system. There are many skills and tools needed so that we can work remotely productively with satisfying results. These tools and required skills are not yet known by many Indonesians, and they are especially during the pandemic when many people are switching careers to remote jobs.
At the end of June 2020, the Remote Skills Academy by Livit launched The Basics Of Working Remotely Course that aims to provide familiarity and understanding of the setup, tools, and systems involved in working online, irrespective of industry to Indonesians.
This 3-week course was attended by 10 incredible participants who come from various backgrounds and regions in Indonesia. We had a very diverse cohort—some of them are digital marketers, housewives, entrepreneurs, and hospitality industry employees who lost their jobs due to the COVID-19 pandemic. It is the diversity that makes this group super dynamic. Not only did they gain knowledge from the trainers in this course, but they also exchanged their own knowledge and experiences with each other.
All sessions were run via Zoom on Mondays, Wednesdays, and Fridays from 2 P.M. to 6 P.M. Additionally, on Tuesdays, we had coworking sessions where the participants worked on their assignments together, and on Thursdays, they had the opportunity to have a 1-on-1 consultation with the trainers.
Here are some the topics that they learned about throughout the course:
Inbox management, emails, calendars, organizing files
Scheduling & calendar management
Presentations & slideshows
Social Media & community management
Email Marketing
Basic Web Management
Intro to project management
How to create a great CV & LinkedIn profile

The topics were taught by the amazing trainers from Livit: Agnieszka Krzysztofowicz, Chalsie Janny, Dewi Dhyana Sari, Gabriel Marusca, Johanes Raymond, Lavinia Iosub, and Ni Luh Putu Yuniari. Some of them have been working remotely for 10+ years. The participants also had the opportunity to meet several Indonesian remote workers who were invited to share their experiences working remotely with clients from all over the world.
We wrapped up the course by having a nice virtual closing ceremony attended by all the participants and trainers. We raised our glasses to the successful completion of the course, and also their journey as future remote work superstars! At the end of this course, all participants were awarded certificates as all of them hit the required 90% attendance for the teaching sessions, workshops and assignments.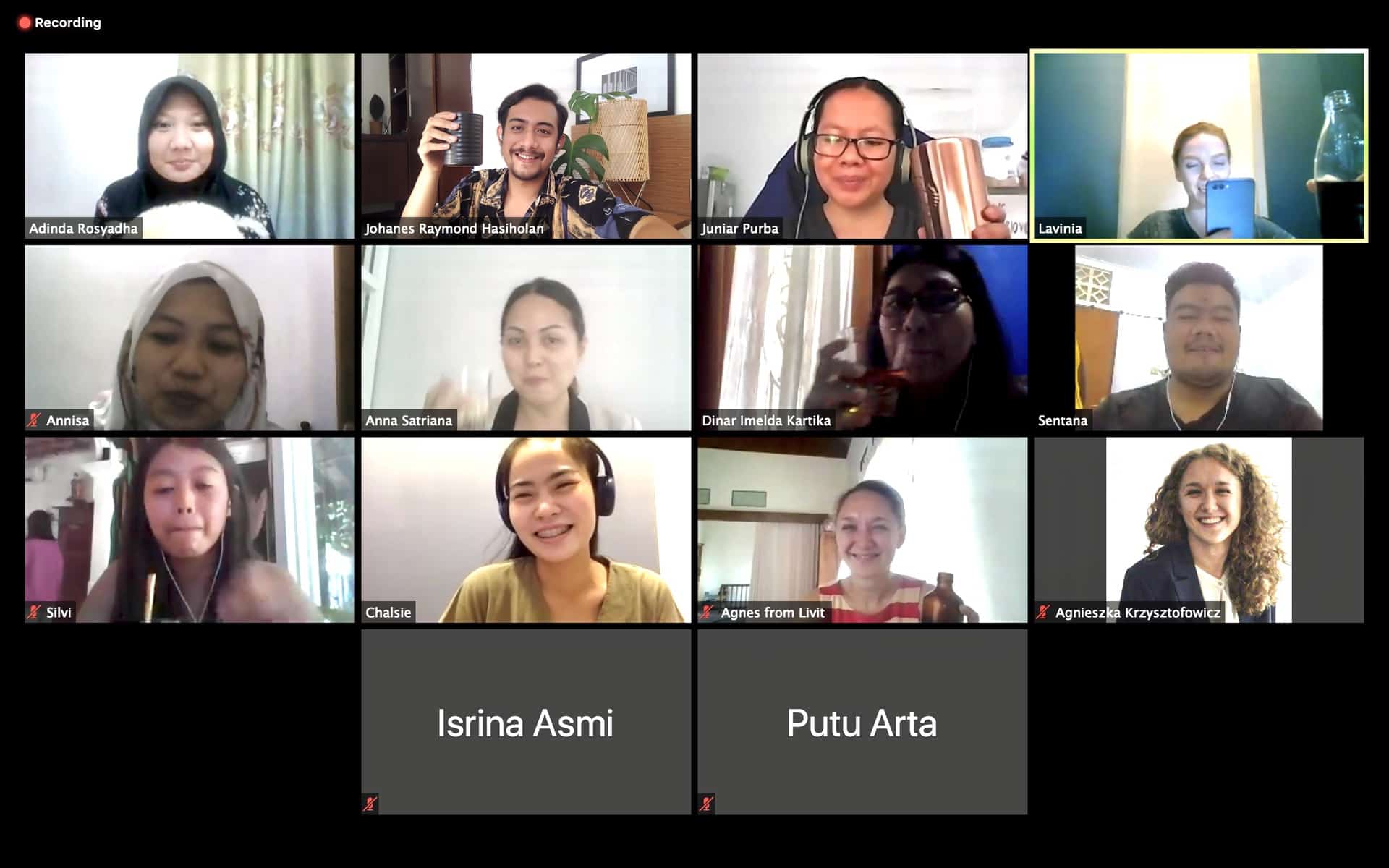 We're so glad to have them in the course and we definitely look forward to keeping in touch with them and seeing how their remote careers level up!
For those of you who missed the course, we have two upcoming courses this month: Scrum Master and Online Business Management. Sign up now before the registration closes and stay tuned for further announcements here!