Remote Skills Academy (RSA) hosted what could potentially be the FIRST 'Community Manager for NFT' course offered in Indonesia.
In collaboration with Ruanth Chrisley—founder of Metarupa (the first NFT community in Indonesia)—and veteran artist Tommy Chandra—Indonesia's first ever Google Doodle artist—RSA taught a 45 student cohort the basics of a NFT Community Manager (CM) job.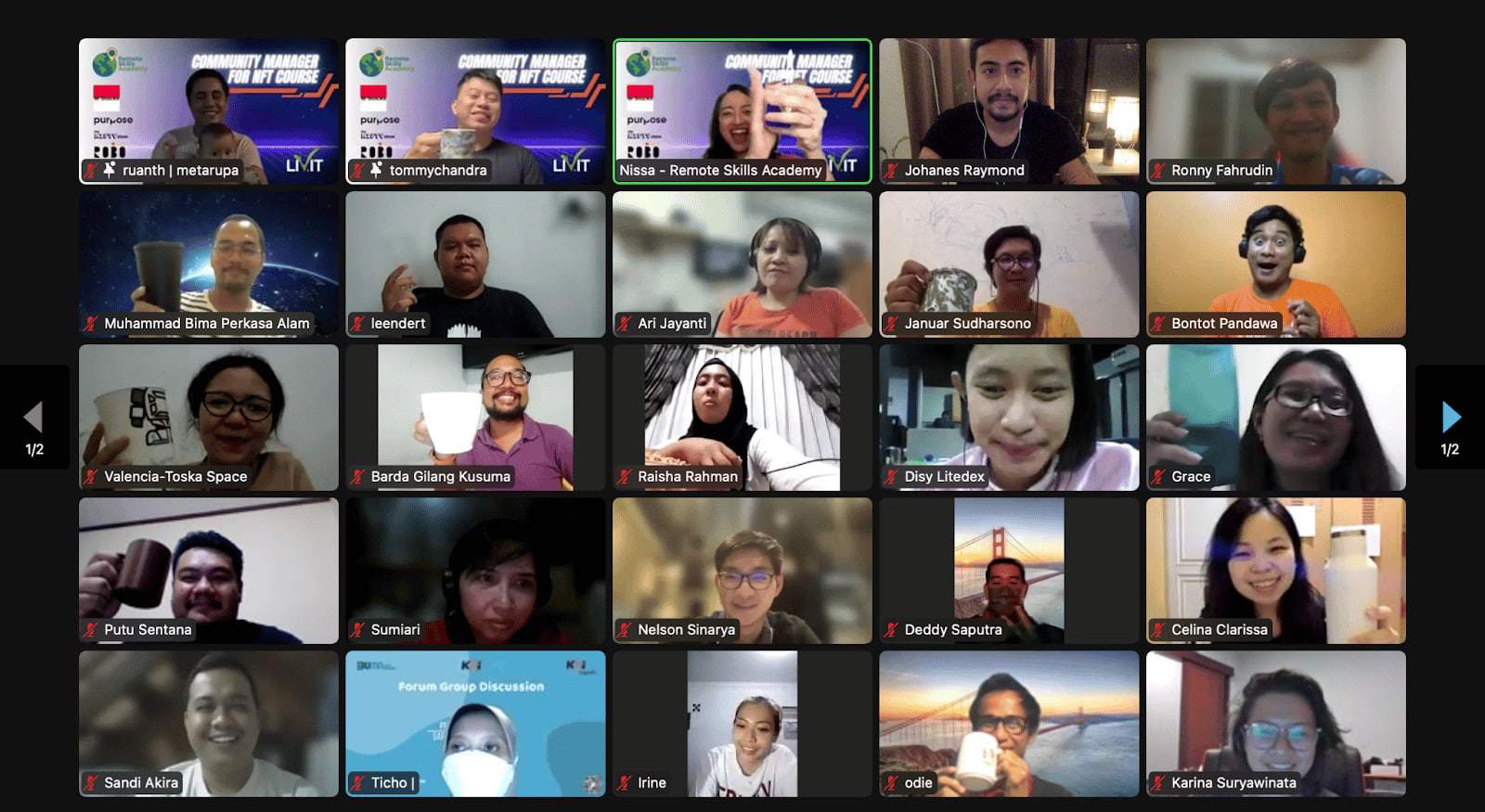 So what is in an NFT CM's job description?
NFT projects need CMs who could manage Twitter and Discord communities, and sustain engaging conversations in their Telegram group chats. A good CM is able to create a safe space that allows their members to interact with ease, while boosting a NFT project's presence in the Web3 space. Because they can be a differentiator between a good project and an outstanding project, the demand for them has grown tremendously; many projects are now looking to hire them with a good paying salary.
From here, you might be wondering: what should be in their resume? Potential CMs should be comfortable with crypto, Web3, and NFT Discord servers. They should also be incredibly organized, proactive in online communities, open to feedback, and willingly think outside of the box to propose social events to their project leads. 
This course is geared to cover all of these so you too could be an NFT CM! While many Discord CM freelancers are hired from English-speaking countries like the Philippines, RSA believes that Indonesia has the talent pool to compete with this. As RSA specializes in teaching remote working skills—and CMs are usually remote workers—RSA can become the catalyst for supplying CMs for the international NFT community. 
Besides this, this course is also a stepping stone for RSA's latest project: Robomot NFT (@RobomotNFT). The Robomot NFT is the first NFT of its kind that seeks to provide remote worker utility (CMs or Virtual Assistants) to a select few of its rare and legendary collectors. This course aims to train Indonesian remote workers to specialize in community management. Later on, they can be connected to RobomotNFT collectors to become their CMs or Virtual Assistants!
Going back to the course, Ruanth kindly provided our 45 student cohort an in-depth glimpse of what the Web3 space is, and the role that a CM plays in it. Below is a brief curriculum of the course:
DAY 1: An Introduction to Web3, Metaverse, and NFT
Theory: What is NFT and how does it work? What is Web 3, Crypto, Metaverse? What are the new things about NFT? What are the advantages and disadvantages of NFT?
Practical: Learning how to make a crypto wallet with Metamask, sync with NFT platforms, avoid scams, and responding to copy minters
DAY 2–3: Introduction to NFT Communities and Discord
Theory: What is Discord and how does it work? How to join an NFT Community? What discord templates can I use? What are Discord Bots? What are the advantages of Discord?
Practical: How do I join a Discord? How to Setup a Discord with Bots, templates, roles & channels, verification, etc? How to avoid scams and spammers?
DAY 4: Understanding how to integrate Discord with Web3
Theory: Learning about NFT and Web 3.0 in Discord. How does Web3 work with Discord? (Collab.land and other bots). The difference between discord, telegram, and Web Portal for Web3. Understanding hacked wallets and verification
Practical: Setting up Collab.land with Discord. Setting up Collab.land with Telegram
DAY 5: Understanding the NFT Artist Community with Tommy Chandra
Theory: Understanding niche NFT Communities, NFT Gaming vs NFT PFP. Defi Protocols for NFT, and Artistic Communities
Practical: Last Q&A Session and Internship Discussion
In order for students to graduate from this program, all 45 students are asked to apply their skills and become temporary CMs in Metarupa, a Discord server with over 1200+ members. Ruanth is an avid believer of hands-on learning, and believes that the only way for one to learn something is to actually do it.
In the case of CMs, understanding the dynamics of a conversation, the vibe of different Discord channels, and the different people interacting in the Web3 space, is a skill that can only be obtained through real-world practice. Hence, this final assignment is considered one of the most essential lessons from this entire course, while also providing students the opportunity to really get to know their job and decide if it is for them.
So what comes next? The highest performing students in the Metarupa final assignment—whose community engagement ability is tracked by a bot—will be offered a paid CM internship in well-established NFT communities. These communities include Stacks Indonesia, Purpose.Art, Metarupa, and KompasNFT. For those intending to continue pursuing this job in the future, this internship will definitely amp up their resume.
All in all, the course was a tremendous success, with students asking in depth questions that provoked thinking to everyone in the course. Q&A sessions even went beyond their allocated time as students were eager to find out more about the CM job and Web3 space. 
If you're curious about this course, you're lucky because we just released the recording of Community Manager for NFT course, it's a 5-day course in one place. We are so excited for you to delve deeper into the world of Web3, providing support for the best NFT communities out there!